While Kenya is not known for its majestic waterfalls, there do exist a few beautiful waterfalls if you know where to find them. Located in Nyahururu which is a 3-hour drive from Kenya's capital city Nairobi, is one such waterfall… the awesome Thompsons Falls. When you arrive at the main gate, there's nothing that prepares you for what you will see when you finally set your eyes on these beautiful falls. There are plenty of local curio shops with locals calling you from each of them to go sample their goods. While you're there you don't see any sign of a waterfall. If you have sharp ears though, as you approach the entrance to the park you will begin to hear the force of the water as it plummets down 74 meters to the ground.
The History of Thompsons Falls
The falls were given their name in 1883 by a Scottish geologist, Joseph Thomson who was the first European to reach Thomson's Falls and named them after his father. The falls are on the Ewaso Ng'iro river, which drains from the Aberdare Mountain Range.
While you're at the park, be careful not to take photos of the Kikuyu ladies and gents temptingly dressed in their traditional regalia, waiting for you to take photos of them. Well unless of course, you are willing to pay them, because they charge a small fee for photos. You will not miss them, trust me – their traditional attire is quite spectacular, to say the least.
Getting to the Falls
There is a path you can take that will lead you to the bottom of the cliff where you can view the falls in their full glory. It's quite a beautiful experience. There will probably be many people, so the path is safe. But it's always advisable when in a foreign place to travel in groups and put safety first.
While going down the path, you will see so much vegetation as the path takes you through a forest. There are beautiful views of the valley where the river flows after the falls. That you can see through small openings in the vegetation. Once you get to the falls you may need to shield your camera from the splash droplets of the fall, but make sure you get a photo – it is beautiful there. Wear shoes with good grip as the rocks next to the falls are quite slippery. When done viewing the falls, you can ascend back to the top of the path, and if you are as unfit as I am, it will be some good exercise.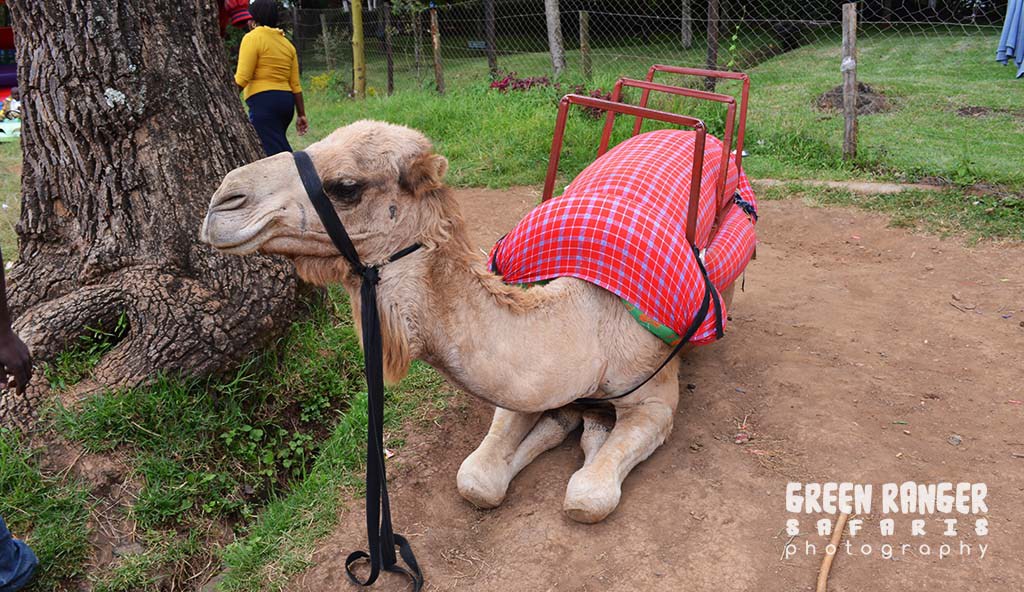 The cheeky resident camel
The area has several Rock Hyraxes. Actually,  the only animals I saw there, apart from the friendly but very cheeky local camel. There to entertain guests who may want a camel ride. Be careful though, this camel likes shiny stuff and will try to grab your potato crisps if you're not careful. And yes, I am talking from experience.
Once you're done with the ascent, you can relax in the park's fields as you catch your breath. There is a restaurant within the park which serves some food. But it would be better if you carried your own food. So you can have a small picnic under the shade of the trees on the green grass.
In Conclusion…
All in all, it is a nice place to visit for a day trip, I would highly recommend it. So next time you're in Nairobi and looking for something to do on a weekend, give us a call. And we will arrange your visit to Nyahururu's beautiful Thompson's Falls… and look out for that camel – seriously 🙂 … (just kidding).
Until next time – stay safe.