Hello travel lovers? We thought we'd share some pretty birds we've encountered in Kenya. Hope you enjoy these Bird-life treats … from Kenya.
Lilac Breasted Roller
This beautifully colored little bird is widely spotted in grassland areas. It is monogamous and quite territorial. This bird is also Kenya's national symbol bird. If you happen to spot this bird, make sure you take a picture – it is very photogenic 🙂
Grey Crowned / Crested Crane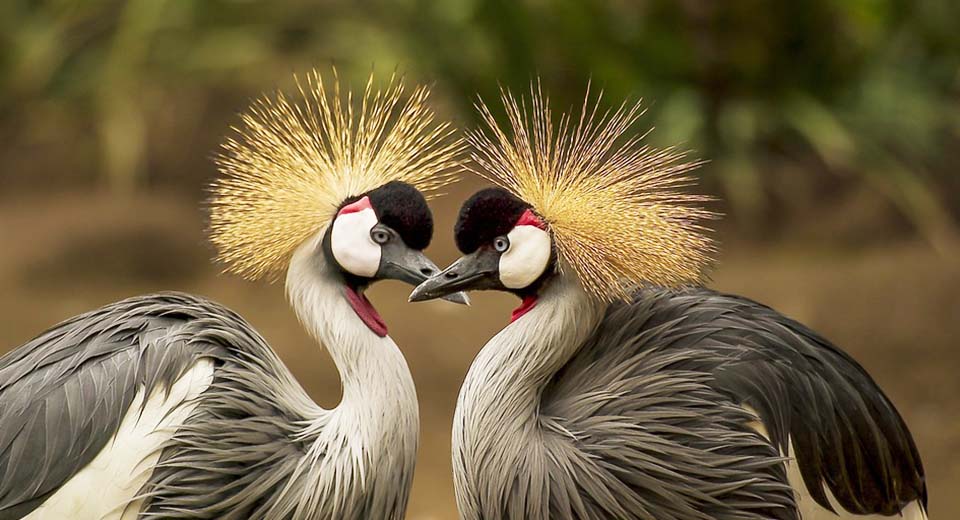 Did you know that this awesome bird is Uganda's national bird and is actually embedded within its flag. During their mating dance, cranes hop and jump gracefully with each other, their wings partly spread. Then they open their wings fully, bow to each other, and jump several feet in the air. When they land, they run around each other and start all over again. Should be quite a spectacular thing to see…
Hammerkop
The Hammerkop got its name from the shape of its head, which resembles a hammer. Hammerkops sometimes participate in group ceremonies. As many as 10 birds call loudly while running around each other in circles. They build really huge nests that take 3-4 months to complete and the nests can actually support the weight of a human. How people found this out is beyond me – but I think it is pretty awesome 🙂
African Fish Eagle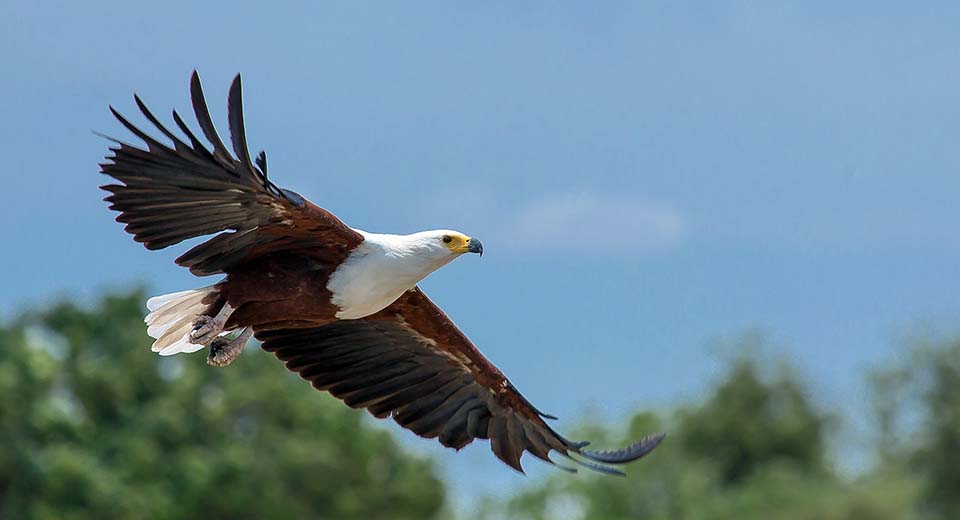 Oh! Yes, this is one of my favorites and the most well-known bird of prey in Africa. It can be found near most water sources from large rivers and lakes to small watering holes. African Fish Eagles prey mostly on fish, but their diet may also consist of young flamingos. These birds are truly a beauty to see, especially if you are blessed enough to catch them hunting.
Lovebirds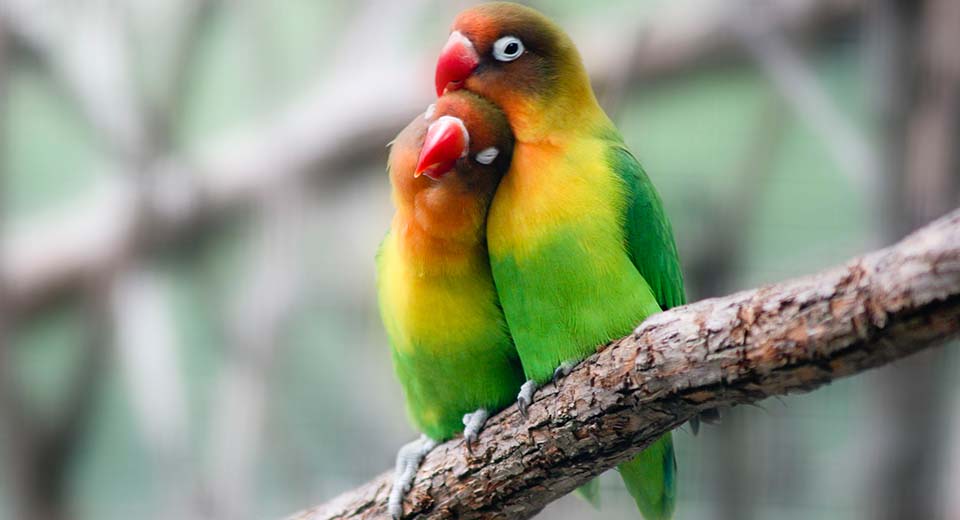 Lovebirds are pretty little birds which are actually small parrots, and are quite intelligent, inquisitive and playful. There are about 9 species of lovebirds, found mostly in Africa, and they live in flocks. They are highly social and monogamous. I just love them 🙂
Secretary Birds
Secretary Birds are awesome long-legged birds that are relatives of hawks and are the only bird of prey that do more walking than flying. They inhabit open grasslands and savannahs, semi-deserts, scrub or lightly wooded areas. The Secretary Bird is the national emblem of Sudan and it features on the coat of arms of South Africa.
Kori Bustard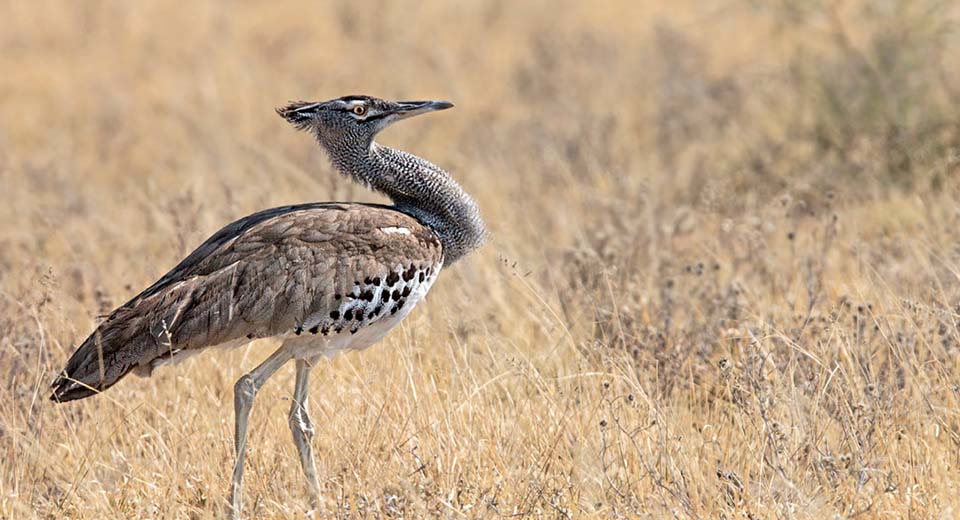 Kori Bustard – Oh! Yeah! Another favorite of mine. These large birds are actually some of the heaviest flying birds. These are true savanna birds, spending almost all their lives on the ground. Kori bustards generally fly only to escape danger. They often walk with antelope, zebra and other mammals, taking advantage of food disturbed by the herds. Magnificent birds indeed.
Vulture/Vulturine Guinea Fowl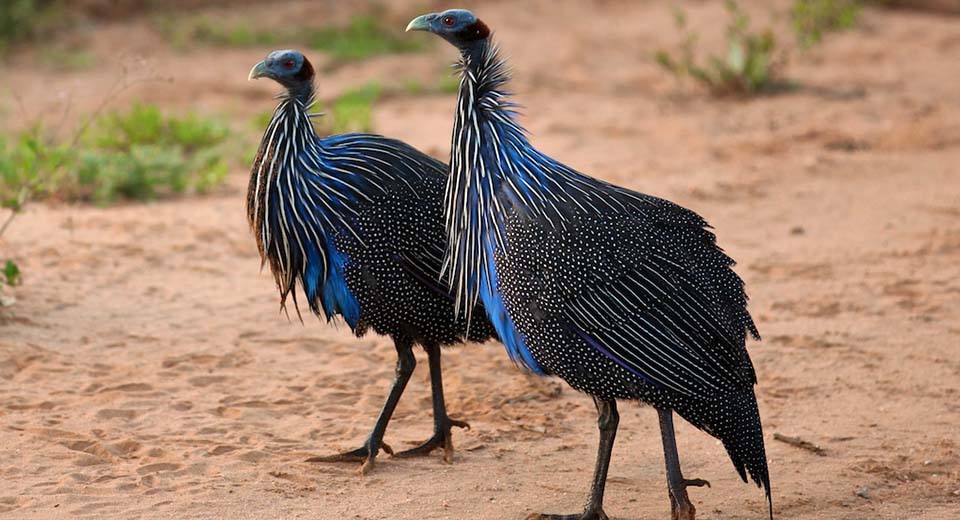 These stunning birds have really beautiful blue feathers and are commonly seen in grasslands walking in large noisy flocks. There are 7 different species of guinea fowl. The vulturine guineafowl is often referred to as the "royal guinea fowl" because it tends to have the most striking appearance.
The Kite
If you have ever had food out in the open in Kenya, you know this bird. It is the one that swoops in and grabs your food from your plate mid-flight. These awesome birds are found just about everywhere, and are superb hunters… but of course, if you walk carelessly exposing your food in the open, they will take full advantage. They are lovely to photograph too 🙂
The Flamingo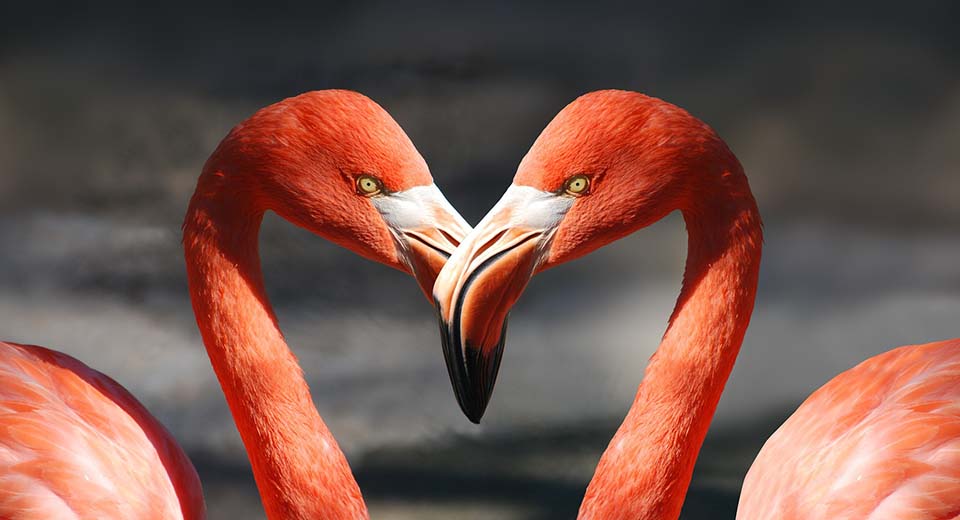 Now, of course, a listing of common birds in Kenya would be incomplete without this famous bird. Flamingos often rest on one leg in the shallows. This position is very comfortable for the bird, as it greatly reduces the amount of body heat lost to the cool water. Their cone-shaped nest is made up of mud, shells, grass and pebbles, with a flat top and a strong base. Chicks feed on special red-colored 'milk' that is very nutritious. The amazing thing is that both the parents feed their youngsters with this milk-like substance. Yes, I said milk- pretty awesome huh?
Well, those are some of the many birds found in Kenya, which is one of the best birding destinations in Africa. Make a point to visit sometime, and we can organize a birding safari for you. In the meantime, we hope you enjoy the pictures.
Happy birding everyone 🙂
Cheers!