Our end of year Green Ranger Safaris trip took us to Northern Kenya, where we got to admire and explore Lake Baringo and Lake Bogoria. We left Nairobi at about 10 am and arrived at about 3 pm.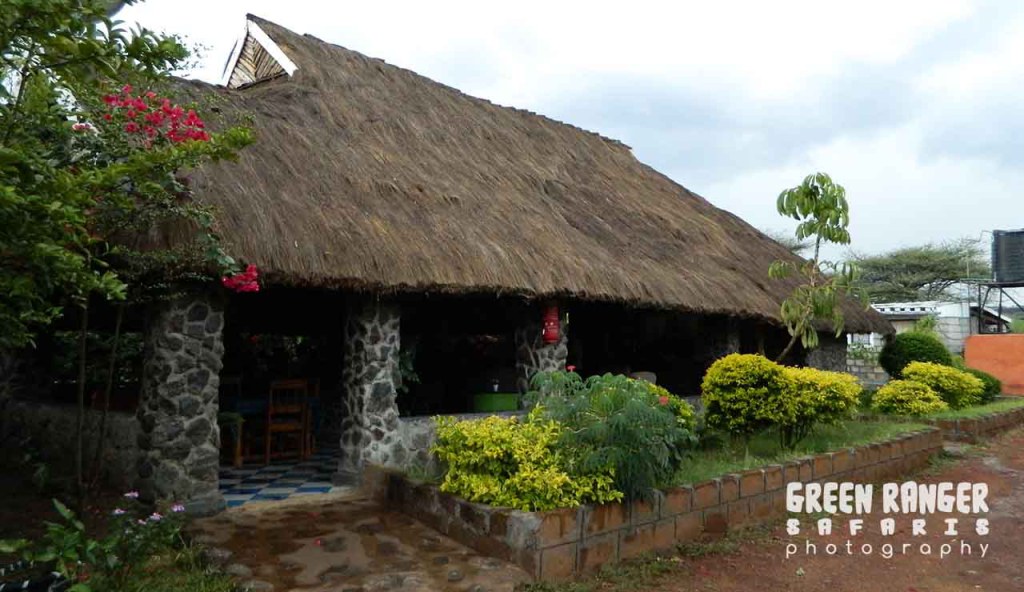 Tamarind Garden
SAFARI HIGHLIGHTS: Lake Baringo and Lake Bogoria, geysers, hot springs, a hot spa swimming pool, flamingoes, plenty of other birdlife, beautiful hills and rock formations and so much more… You will love it…
Day One – Lake Baringo
We stayed at the Tamarind Garden, which is a nice little hotel with 12 rooms that opened in 2009. Once we had settled, we went to visit the neighboring snake park which is just next to Tamarind Garden. This is a little treat for snake lovers or those who do not mind seeing, being around or holding snakes. All the snakes in the park were captured in the region and most of them were injured. Some of the species they have include boas, pythons, sand-snakes and a few others. They also have 4 or 5 Leopard Tortoises… for those who don't know, that is one of the small five.
Later that evening…
At around 6 pm, we went to see Lake Baringo. Lake Baringo is a freshwater lake at the threshold of Northern Kenya. It is home to Hippos, Crocodiles and a great variety of bird species. The 129 sq km lake is well stocked with fish and attracts many Pelicans, Cormorants and Fish Eagles as well. Lake Baringo has an average depth of only 8 meters (25 ft), and its three islands (Ol Kokwa, Teddy Bear, and Gibraltar) are breeding grounds for the statuesque, Goliath heron, the largest of the heron species. The lake is fed by several rivers, Molo, Perkerra and Ol Arabel, and has no obvious outlet; the waters are assumed to seep through lake sediments into the faulted volcanic bedrock.
Lake Baringo is a birder's paradise. It is home to almost 470 species of birds including African Fish Eagles, White-faced Scops Owls, Paradise Flycatchers and many more. #MagicalKenya
tell a friend
If you have some time, try to visit the three islands. We didn't manage to visit them ourselves. But entertainment was aplenty from the local young boys. They even had names for frequently visiting crocodiles – but keep in mind that at the end of their stories they'll ask for some money 🙂 yikes!
We went back to Tamarind Garden for a lovely dinner, and at about 10 pm, left for the neighboring Soi Safari Lodge. Drinks at this lodge are more expensive than expected, but it has a great pool table area and good food. They have a small area where they have birds like Fish Eagles, Ostriches among others for viewing. We were treated to a wonderful display of fireworks later on that evening as we ushered in the new year 2013.
Day Two – A Visit to Lake Bogoria and Lake Bogoria Spa Resort
The following morning after a delicious breakfast, we left for the 32 sq km Lake Bogoria. Lake Bogoria lies in the shadow of the dramatic walls of the Siracho Range. It is the deepest alkaline lake in Kenya and has numerous alkaline hot springs, and geysers as the area still have volcanic activity. The lake is an attraction to massive flocks of Flamingo and is within the Lake Bogoria Reserve, which is home to the endangered Greater Kudu. There are also many Fish Eagles. Lake Bogoria also contains the highest concentration of true geysers in Africa (at least 18 are known).
We boiled our eggs as we enjoyed the beautiful scenery and bird life. After this, we went to the Lake Bogoria Spa Resort to enjoy a dip in their natural Spa swimming pool. The area around this resort is home to many Superb and Glossy Starlings as well as Red-billed Horn Bills – a real treat for bird enthusiasts. We left at about 4 pm and arrived back in Nairobi at about 9 pm.
Here are some of the sights and scenes of the safari…
In conclusion
Lastly, it was a great trip and we would definitely recommend it to anyone who is looking for a get-away to a place that has few crowds. Also, the place is very hot so carry hot weather outfits, sunglasses, hats and sunscreen for those prone to sunburn. Carry plenty of water as well – and don't forget your camera since you will find yourself using it a lot – there's plenty to photograph. It's a really beautiful place.
We hope those of you who joined us for the Lake Baringo and Lake Bogoria Safari had a blast as we did… Happy traveling good people 🙂