First and foremost, The Green Ranger Safaris team would like to wish you all a Happy Earth Day… Hopefully, we can all do something small to show appreciation for our beautiful planet.
All while celebrating this great day – which should be an international holiday. But that is a story for another day. 🙂 We also hope everyone had a fantastic Easter weekend.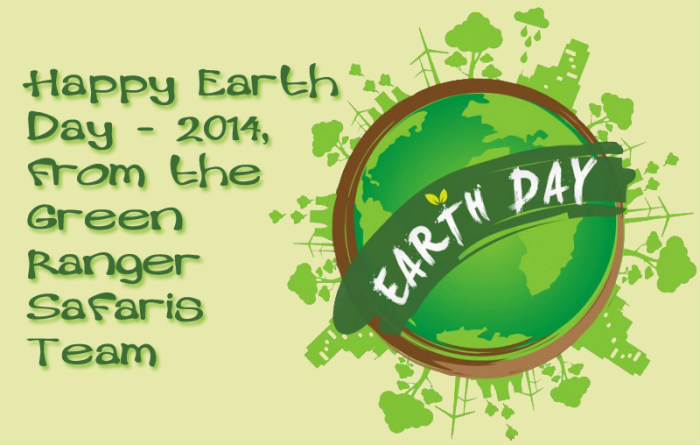 Lumo Conservancy
Green Ranger Safaris organized yet another epic safari for our clients this Easter, and this time it was towards the southern part of Kenya, at the little known Lumo Community Wildlife Sanctuary. A beautiful place indeed, that covers an area of 46,000 hectares in the heart of the Tsavo Eco-system, in Taita Taveta district. The sanctuary is wedged between Tsavo East and West National Parks and Taita Game Sanctuary.
Rainbow spotted at Voi on our way to Lumo… A sure sign that the trip was gonna be awesome 🙂
We began our journey to Lumo from Nairobi on Friday at about 9:30 a.m. Due to the many stops, we made on the way, however, we arrived at our destination at about 8 p.m. and begun the tedious work of setting up tents. The campsite has a generator, which came in very handy in lighting the area as the tent set up going on. Our dinner was cooked by our awesome chef Charles, who never fails us when it comes to food… The first evening was relatively quiet since most of us were tired and retired early.
We woke up early the following morning. And after a sumptuous breakfast thanks to the chef, we headed out for a game drive. The best time to go for a game drive is either very early in the morning or late afternoon. When the sun is not too hot. Since animals do not like the heat (and who can blame them really? the African sun can be torturous). We did not spot too much since we begun our drive quite late. But we did see a lot of Grants Gazelle, Masai Giraffe, an angry Buffalo and even spotted some Eland … which are quite a sight to behold.
This guy was trying to hide from us … try standing behind a bigger bush next time Mr. Giraffe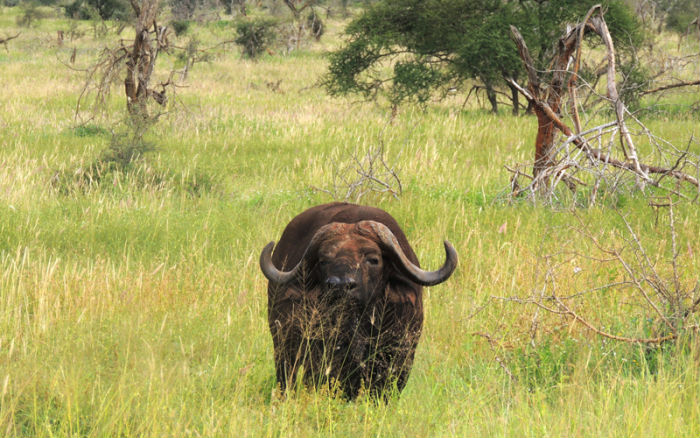 We startled this fellow, whom we stumbled upon seated smack right in the middle of the road. Obviously, he did not welcome our intrusion and stepped aside to give us a really angry stare
For those of us who love birds just as much as we love the rest of the other animals, there was quite a lot to see. We spotted some Secretary Birds, Ostrich, Lilac Breasted Rollers, Superb Starlings, and Ostriches, just to name a few, and even managed to spot a Ground Horn Bill nest with its occupants inside…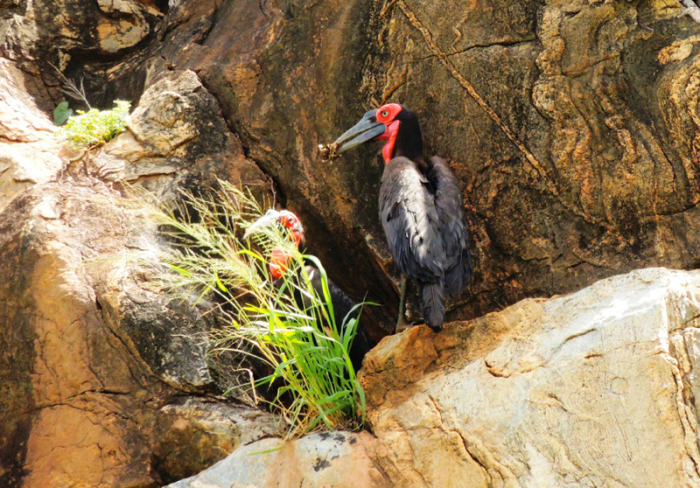 A Ground Horn-Bill nest with its residents… could that be a mom with a snack?
After a long drive, we passed by the Sarova Saltlick Game Lodge for a toilet break and to get time to stretch. We then headed back to camp for a late lunch, then went for some well-deserved swimming at Sarova Taita Hills Game Lodge, which is also in the same area.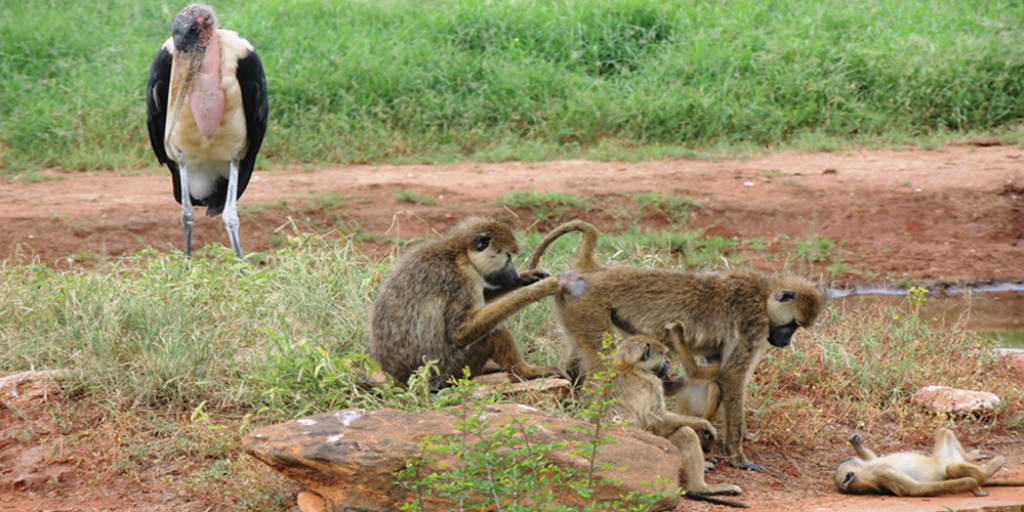 This Marabou stork at Sarova Saltlick Lodge was looking indifferent due to the monkey business its neighbors were up to
After a good swim, we headed back to camp for dinner. This time, however, the Green Ranger Safaris team was not letting people go to sleep early… after all, we did not come to the bush to sleep, did we? So the team organized an irresistible bonfire, along with great music, and later on, we had some games and really had a good laugh until about 4 a.m. in the morning. At 6:30 a.m., we all woke up to have our final game drive. Although we were exhausted from the previous evening, we enjoyed the drive and spotted an Elephant, as well as some Zebra, Impala, Grants Gazelle and some more birds. The Elephant decided to walk in front of our bus for about 15 minutes as he headed to a nearby waterhole… of course, this was great for us, so that we could capture some good photos.
This Elie led the way for about 15 minutes… You would think that would give me enough time to get a better photo than this 
After the drive, we got back to the campsite to pack up and bring down our tents. We had some lunch and soon after, planted a few trees on the campsite grounds, which hopefully will grow beautifully. We later proceeded with our journey back to Nairobi at about 2:30 p.m. Make sure to start such a trip early in the morning, seeing as traveling at night via public means is against the law.
We got to Nairobi safe and sound at about 11:30 p.m. on Sunday.
In Conclusion
All in all, it was an awesome camping safari, and the Green Ranger Safaris team is grateful to everyone who managed to join us.
We hope you enjoyed this "short" post about the trip. Hopefully, if you are in Nairobi when we arrange the next one, you can join us.
Until next time – have an Earth-appreciating day… and remember to Reduce, Restore, Recycle, Re-use and Replenish… Cheers all