Hello good people? Hoping your week is coming along great so far… So today I was pretty bored and decided to go to the safari walk at the Nairobi National Park. It's a nice place to visit on a dull Saturday afternoon. There are quite a few animals you can see, but spotting the Leopard, Hyenas and Lions is quite a treat since they are always hiding from the hot African sun.
Starting the walk
So anyway, today the walk started quite slowly, but I noticed a few new additions since the last time I was there. First on the list was a new Pygmy Hippopotamus. The one that was there before passed away a while back sadly, especially since this species is now endangered. Pygmy hippos originate from West Africa, and are mostly similar to their larger cousins, except that the sexes are similar in appearance; as males do not have a scrotum, males and females are very difficult to tell apart.

The lovely but elusive leopard
The big cats
On the way to the Lion's enclosure, there's the Hyena's enclosure, but I wasn't lucky enough to see either of these elusive predators. Anyway, so as I walked towards the Leopard's enclosure, I heard the roar of the Leopard – if you can call it that, because it sounds more like a really loud growl, and run to the enclosure.
I saw the beautiful leopard as it came down a tree and headed straight for another, but not before I managed to get a pic or two… Yaay to fast clicking. This was totally awesome since I rarely see this Leopard whenever I visit. He or she is truly a beautiful cat. I was quite impressed when he/she climbed straight up a really tall tree soon after, leaving me totally in awe of the power these magnificent creatures possess.
The other awesome animals
So then I proceeded to the Cheetah enclosure, bypassing the local herbivores including a beautiful Giraffe, some mixed breed Zebra, a Kudu, an Eland and some two or three Buffalo. I also saw the resident Ostriches and a Stork down by the river.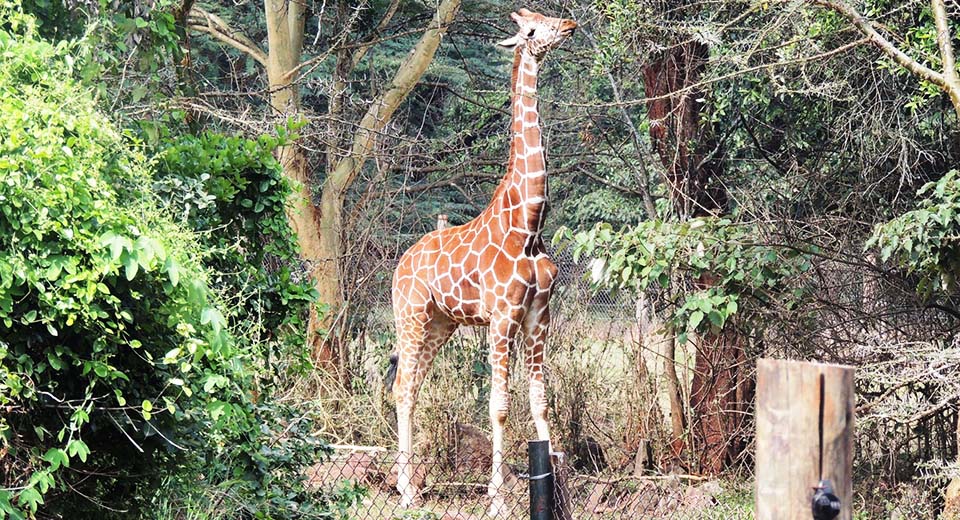 Handsome Giraffe
The walk ended faster than usual this time, as always it was quite relaxing. Since I finished the walk sooner than I had hoped, I decided to visit the animal orphanage right next door to the nature safari walk. I usually don't like to visit this place because I don't like seeing animals in such small cages, but it gives you a chance to see some of the bigger cats up close.
All the animals in the orphanage are actually animals that were rescued from the wild, mostly because they were abandoned by their parents, or their parents were killed. But there are also those that were rescued because they suffered some sort of injury and can no longer survive by themselves in the wild. It's still tough to see them in cages though.
New additions
So anyway, during the walk at the orphanage, I noticed the second new addition to the animals… a Crocodile. It always amazes me how still these historic animals can lay for hours on end.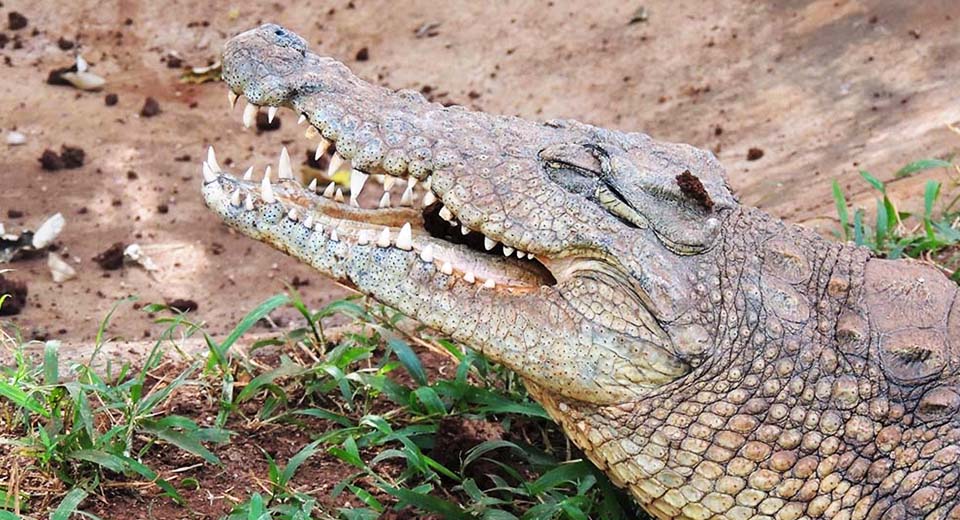 A new addition to the family – a Crocodile
All in all, it was a relaxing afternoon. But at the end of the walk I was famished, but could not help but take photo's of this little fella after he stole some poor visitor's bottle of juice and proceeded to bite a hole into the bottle to reach its sweet contents.
Cheeky monkeys
The resident Monkeys and Baboons are very cheeky, and sometimes the Baboons can get downright dangerous as they grab paper bags and bottles from visitors. Its no wonder they do not allow one to get into the safari walk or the orphanage with these items, but some people put them in their bags and then when inside take them out. A very dangerous thing to do since a Baboon is very powerful and can easily injure a grown man.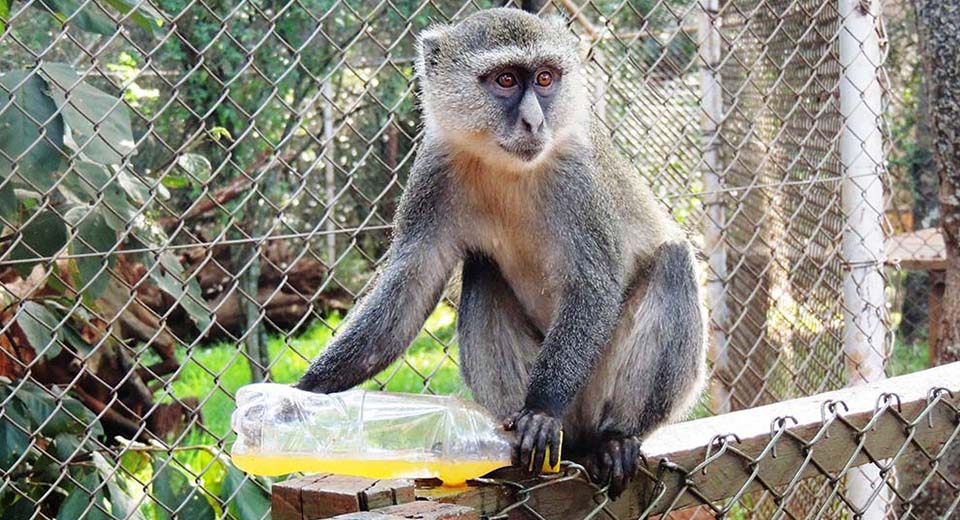 This cheeky little Vervet Monkey grabbed that bottle from one of the visitors
So when you are around animals, just do as advised by their caretakers, and respect them.
Anyways – so that was my Saturday. I hope if you ever visit Nairobi, you make a point of visiting the National Park. Until next time – have a relaxed week 🙂