Hello everyone? We hope your days are coming along well so far. Today we had a discussion with a couple of tourists and happened to mention the small five animals. "The Small Five? Who are those?", they asked…
Well, many people have no idea that there is a group of creatures called the small five, let alone knowing what they are. Everyone knows of the big five – so today we are shedding some light on the small five. They've got to have their moment of fame right? Alright – here we go 🙂
Most people know that the big five comprise of the Elephant, the Rhino, the Buffalo, the Lion and the Leopard. Well the small five have similar names. The Elephant Shrew, the Rhinoceros Beetle, the Leopard Tortoise, the Ant Lion and the Buffalo Weaver.
Elephant Shrew
The Elephant Shrew is a small-sized mammal that is found exclusively in Africa. There are nearly 20 different species of elephant shrew, all of which vary in both color and size. They are actually not related to shrews, rabbits, hedgehogs or llamas, as was thought in the past. To eliminate some of the confusion caused by their name, they are sometimes called Sengis.
Elephant Shrews are neither rodents nor true shrews but are more closely related to Golden Moles, Tenrecs and Aardvarks. #AmazingAfrica
Tell a friend
A number of elephant shrew species make a series of cleared pathways through the undergrowth and spend their days patrolling them for insect life. The pathways also give the elephant shrew a clear-run home should it become disturbed by a potential predator. Although elephant shrews are omnivorous animals, the diet of an elephant shrew is nearly completely made up of insects.
Elephant shrews are fairly unusual mammals because they form monogamous pairs and mate for life. Click here to find out more.
Rhinoceros Beetle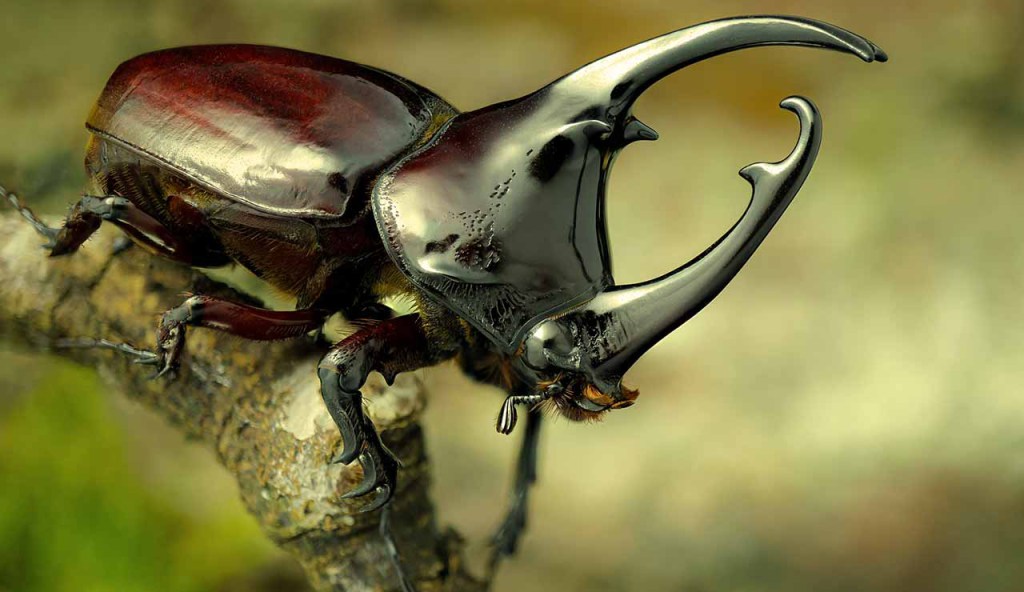 The Rhinoceros Beetles are herbivorous insects named for the horn-like projections on and around the heads of males. They are found on every continent except Antarctica.
Pound for pound, the Rhinoceros Beetle is one of the strongest animals in the world. An adult can lift up to 850 times its own body weight. That is more than any other animal ever recorded. #iloveanimals
Tweet this
Rhinoceros beetles can grow up to 6 inches, making them some of the largest beetles around. Because they are so big they can store fat so that they can fly long distances without eating. They are considered the world's strongest creatures since they can carry up to 850 times their weight. That would be equivalent to a human lifting 9 fully grown male elephants! Amazing huh?
Click here to find out more about these awesome beetles…
Buffalo Weaver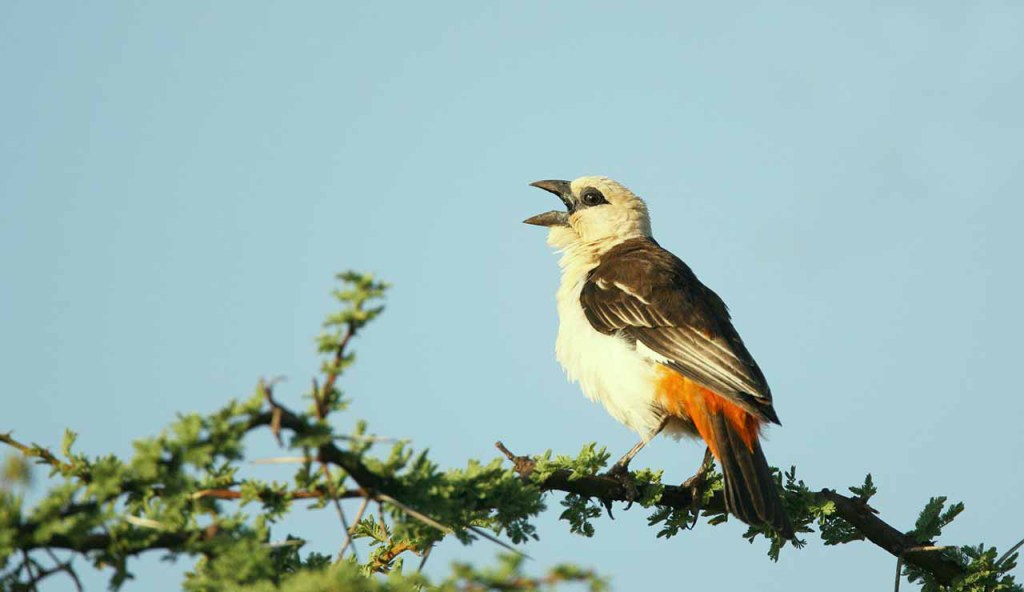 White-headed Buffalo Weaver
The Buffalo Weaver bird can either refer to the common Black Buffalo Weaver or White-headed Buffalo Weaver. Both are found in dry areas and are very common especially in East Africa.
Buffalo Weavers are very territorial. They have been known to throw bits of tree bark and small twigs at perceived challengers including those much larger than themselves. #birdwatching
Click to Tweet
Buffalo weavers are social birds that nest in open, loose colonies. They build huge and complex nests high in a tree and in a fork of branches. The nest itself is a large, rather untidy structure of twigs and coarse grasses. These birds feed mostly on insects.
Click here to find our more about this interesting bird…
Antlion (Doodlebug)
The Antlions or Doodlebugs get their name from their predatory larval stage, where they are metaphorically like lions among the ant world. These clever predators set up a trap or two for their unsuspecting prey. Now you are probably wondering how in the world an insect can possibly set up a trap.
Antlions are neither ants nor lions but are actually the larval form of any of about 2000 species of the family Myrmeleontidae. #nature
Share this
Well, the Antlion will scour its environment for the perfect sand composition. Once they find the perfect spot, they excavate a pit and bury themselves at the bottom of the pit. Eventually, an unsuspecting ant will fall into the pit and that will be the last "accident" the ant ever encounters.
Oddly enough, these predatory insects are quite harmless and delicate in the adult form where they resemble the beautiful Dragonfly. Click here to read more about this insect…
Leopard Tortoise
The Leopard Tortoise is one of the largest mainland tortoises and has an elevated shell that is covered in squarish scales that are dark brown on the outer edges, light brown or yellow on the inner area, with a darker spot in the center. These resemble leopard spots, which is how the tortoise got its name. They can reach about two feet (61 cm) in length and weigh up to 70 pounds (32 kg).
Leopard Tortoises are the only tortoise not to have a nuchal shield (the protective scute above the neck). This makes them the only member of the tortoise family that can raise its head, and the only member that can swim. #iloveanimals
Tell a friend
Leopard Tortoises occur naturally throughout southern and eastern Africa. Some believe that you can determine the age of a tortoise by counting the rings on its shell. However, this is not possible. The rings or scutes are formed during growth periods and leopard tortoises (like all tortoises) may grow at different times and rates during the year. Click here to read more about the Leopard Tortoise…
And there you have it. Those are the small or little five. Quite interesting creatures by the way, so if you want to find out more about each of them, you can use the links we have provided.
Well, that's all for today's nature class from the Green Ranger Safaris team 🙂
Have an adventurous day – remember, every little creature is interesting in its own way. What a wonderful world we live in 🙂 Cheers!